CNR undergraduate students are invited to share their research with fellow students, faculty and friends.
Fall Session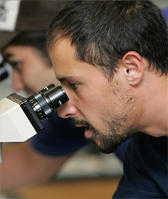 CNR students get lab research experience.
Please check back in the fall.
Spring Session
Spring Poster Session
Friday, April 25, 12-2pm
Morgan Hall Lounge
To register, please go to: http://bit.ly/1gnqq8B
View photos of past Poster Sessions.
It will feature CNR Honors Research, Senior Research and Independent Research projects each April. Although many of the projects presented here are complete, students are very welcome to submit works in progress as well.
What's in it for you?
Gain communication and presentation skills
Learn to summarize your research, an integral part of scholarship
Get recognition for your hard work on a research project
Have the chance to discuss your project with others who share your interests
Give the local community a chance to learn about the exciting research being done by you, a fabulous undergraduate.
Get a Certificate of Participation
Add another great experience to your professional resume.
Enter to win a prize for the best poster.
Have the chance to showcase you poster later on Cal Day for viewing by new and prospective students
How to Participate
Spring 2013 Poster Session registration is now closed
Create your poster to fit a 30" x 40" poster board
Stand next to it on the day of the session to present your research and answer visitors' questions.
Designing a Poster
You will be provided with poster board (30" x 40") to mount your poster.
Posters can be made several different ways, but many students prefer to use PowerPoint to design the poster. Your poster could be assembled from separate 8.5" x 11" sheets printed in (shades of) black and white, or on a color printer. Or you could design and print your poster in large format.
Printing Your Poster
If you create one large poster, ask your research mentor if s/he can help you get access to a large format printer (plotter) and cover the printing cost. If this is not possible, you may have a poster printed in special facilities such as the CNR Geospatial Innovation Facility (GIF) in 111 Mulford Hall, or the Molecular Graphics and Computation Facility (MGCF) in 175 Tan Hall. You may also look into local printing shops as additional options.
To have your poster printed at GIF or MGCF be sure to contact the center well in advance to schedule a printing appointment for the week preceding the poster session.
If funding is an issue, please make sure to indicate as such on the registration form.
Other Resources
How to Create a Winning Poster by Kim Keeton (College of Engineering)
Walk through Mulford & Koshland Halls and you will see examples of posters on the hallway walls.
An advanced search online within the .edu domain will yield some other good online tutorials on how to make a poster using PowerPoint.
Register for CNR Poster Sessions
Spring 2013 Poster Session registration is now closed
Judging Criteria
Posters are judged on a scale of 60 possible points for the following criteria:
Content
Does the poster focus on a well-defined problem?
Can the overall problem and solution approach be grasped quickly and easily?
Is the quality of writing clear, complete and concise?
Is the poster complete, containing an introduction, materials and methods, results, discussion and conclusion sections?
Are the sections placed in appropriate order?
Twenty points possible.
Visual Organization: Visuals and Text
Is the overall presentation of the poster aesthetically appealing?
Does it summarize the "problem" or research question in a clear comprehensive manner?
Visuals: Are the visuals attractive and of high quality?
Visuals: Is the use of images and text helpful to the overall understanding of the subject?
Visuals: Are all the figures properly attributed?
Text: Is the poster easy to read from a reasonable distance?
Text: Are the methods, results, and conclusions easily understood in a reasonable amount of time?
Text: Are the details adequate to convey the main idea?
Text: Is there correct use of grammar?
Twenty points possible
Verbal presentation
Does the presenter explain his or her work in a clear manner and have the ability to maintain audience interest?
Does the presenter have the ability to describe how data was collected and analyzed?
Can the presenter clearly summarize the body of work?
Can the presenter answer questions?
Twenty points possible